Washington, D.C. Reclaims its Role as a Jazz Destination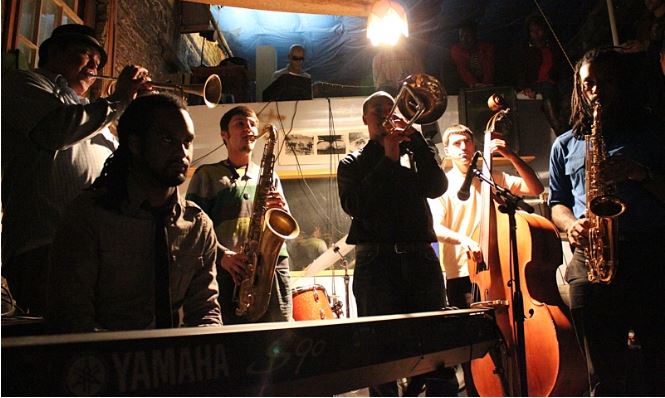 By PAULA PHILLIPS, Published: June 27, 2013
"Music is a powerful thing...fresh air for your life. You need jazz to breathe. It's just like oxygen." —Jimmy "Junebug" Jackson

Oxygen for the Ears: Living Jazz
Oxygen for the Ears is a 2012 award-winning documentary film depicting the vibrancy of the jazz scene in the nation's capital.
Made in three years by German-born astrophysicist Stefan Immler, the 94-minute documentary shows the city's key role in the past, present and future of jazz and is gaining attention for the filmmaker and his adopted city.
The film was selected for 16 film festivals in the U.S., Canada and Germany, winning an award for Best U.S. Documentary at Manhattan International Film Festival 2012 and for Best Music Documentary at the World Music and Independent Film Festival 2012. It found a standing-room-only audience at the Third Annual Reel Independent Film Extravaganza (RIFE) in Washington,DC.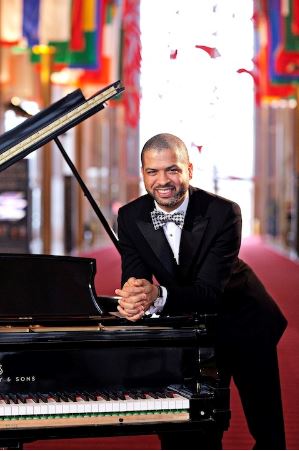 The film has prompted much discussion about whether the city's role in the national jazz scene is under recognized by national newspapers and jazz magazines, which focus on New York City. While District musicians sometimes spend time in New York to raise their profiles, many do their life's work in the enormous DC metro area, which stretches to Maryland and Northern Virginia. In an interview with Sirius XM's Mark Ruffin, Immler said it was time to give the District and its musicians their due.
Washington DC's Role in Jazz History
Oxygen for the Ears presents plenty of fascinating facts: for example, native son Duke Ellington began booking bands from a sign painting company; Jelly Roll Morton, who was playing jazz as early as 1902, ventured to the District in 1935 and ran the Jungle Inn nightclub (next to Ben's Chili Bowl) on U Street. But the city's jazz history goes much further back.
Narrated by the familiar voice of Erik Dellums, known from hit TV series The Wire and Homicide: Life on the Streets, Oxygen for the Ears begins its jazz history lesson in the 1800s.
It tells the story of jazz from its inception in New Orleans to its migration to the District of Columbia and expansion to Harlem. University of Maryland music history professor Patrick Warfield was interviewed for the film. "We forget that the Harlem Renaissance, in many ways began here in the District of Columbia," he says. "Duke Ellington, Alain Locke and Langston Hughes had careers here in the District before they moved to Harlem."
Washington historian Bernard Demczuk concurs. "Before there was the Apollo," he says, "there was The Howard Theatre." Since the early 1910 that's where the greatest African- American artists in the nation performed. Located in the now revitalized U Street jazz district, The Howard Theatre reopened in April of 2012 after extensive renovation.
The film depicts countless jazz treasures in many neighborhoods, demonstrating that District artists and venues were historically prominent and are part of a burgeoning jazz scene today. Besides The Howard, the film features prominent U Street jazz clubs such as Bohemian Caverns (opened in 1926 in the basement of a drugstore), and Twins Jazz.
Photographs, recordings, performance clips and interviews tell the story. Elder statesmen such as bassist Butch Warren and saxophonist Buck Hill make appearances along with Billy Taylor, Gene (Joe) Byrd, and Jimmy "Junebug" Jackson. Fortunately, the latter three were interviewed for the film before their passing.
In the Edmonton news magazine Gig City, writer Barry Hammond calls Washington, DC the "jazz city that Ken Burns missed." He makes the point: "When Ken Burns' 10-part series on the history of jazz premiered in 2001, one can just imagine German filmmaker Stefan Immler watching the segments on New York, Chicago, St. Louis, or Kansas City in his new home- town and
screaming, "Hey! What about Washington, DC?!'"
DC Jazz Media
This writer has spoken with jazz fans of all ages from Sweden, Canada, and China who seem to know more about U Street jazz than do many national and even local journalists. There is no jazz writer at the city's largest paper, the Washington Post, and important jazz events like the DC Jazz Festival are covered sporadically.
The voice of jazz was diminished last winter with drastic cuts to jazz programming at Pacifica radio station WPFW. The general manager cut shows and moved experienced DJs such as Candy Shannon and Rusty Hassan to early a.m. and late night slots. (They had migrated from nearby public radio station WAMU that now offers little jazz besides Rob Bamberger's enduring period jazz program "Hot Jazz Saturday Night.") Town meetings were held, staff and volunteers weighed in and the WPFW grid shifted back to more jazz.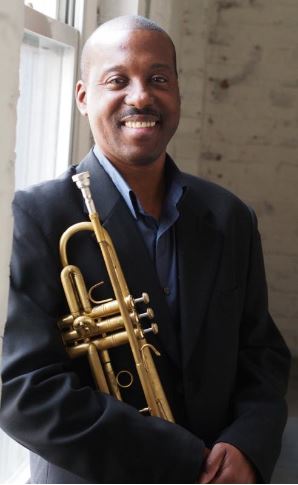 The good news is that new avenues of jazz coverage have opened up. Website Capital Bop publishes news, events and reviews. Other sites like DC Jazz (and the related Instant Seats) as well as District Jazz at All About Jazz (and its new Jazz Near You: DC ) fill the information gap with news, bios and event listings for the region. For informed in-depth blogs, jazz fans may visit Open Sky Jazz hosted by Willard and Suzan Jenkins.
Washington, DC: A Stop for Touring Jazz Artists
While national and international jazz promoters sometimes pull out their hair in frustration over the lack of solid jazz reporting,
DC concert halls and clubs are filling seats with jazz fans, and new venues are opening. Change is in the air.
In 2011, jazz pianist Jason Moran replaced the late Billy Taylor as artistic adviser for jazz at the Kennedy Center. The New York-based touring artist says the District is an important destination for national and international players. "It's on the tour circuit," he says. "You go to New York, to Philly and to D.C. and it's a destination with a good audience for clubs. I'm inspired by what I see every time I drive into D.C."
When Moran comes to the Capital, he visits jazz joints around town. Besides those mentioned earlier, he hits the Atlas and HR-57 on H Street in Northeast and Columbia Station and Eighteenth Street Lounge in Adams Morgan.
The Kennedy Center and Other Major Cultural Institutions
As the nation's center for the performing arts, the Kennedy Center offers artistic excellence and cultural diversity, featuring many opportunities to hear music from many cultures. A healthy portion of their offerings involves jazz.
Moran is mixing things up even further. He hosted a free election-night concert fusing jazz and political history and a ticketed
event pairing jazz with comedy. He is intrigued with the free Millennium Stage concerts. Presented at 6:00 p.m. 365 days a year, they host jazz and other genres. He says, "I want people to consider that the Kennedy Center is there for them to enjoy, just as you would a club around the corner. It belongs to them."
Two more major jazz presenters serving the nation's capital are Strathmore in nearby Bethesda, Maryland and the Washington Performing Arts Society (WPAS). Lacking a physical location for its pursuits, WPAS is an incredible collaborator, including jazz and jazz education in its offerings. WPAS is the largest presenter of cultural activities in D.C. Public Schools. Programs include the Capitol Jazz Project for middle schools in conjunction with Wynton Marsalis and Jazz at Lincoln Center with local saxophonist Jeff Antoniuk as master teaching artist leading his band, the Jazz Update.
Smithsonian Institution museums also present jazz. Check out the American Art Museum's Take 5! concerts on Thursdays. The National Gallery of Art presents jazz on Fridays in summer and universities around the beltway offer additional resources.
Moran says, "The city has the audiences that allow the artists to grow. You can see so many acts in one evening." He'd like to see a report assessing their cultural and economic value: "It's important," he says, "so that no one is under any delusions about who is coming and why they are there."
Top Jazz Destinations
What U.S. cities call out to Moran as a jazz artist? Those most familiar and important to him are New York, Chicago, San
Francisco, and Philadelphia, Washington, D.C. and New Orleans.
Moran looks at a city's jazz scene through the artists who enliven it. "I always think about who does the city raise? Duke Ellington and Billy Taylor were people who became major mouthpieces for the music and swayed the opinions of millions," he says. "D.C. is a major central point because of the people it births." He does not feel a musician has to live and perform in New York to make a substantial contribution.
Jazz publications have been largely indifferent to players and events outside of the Big Apple yet continue to lose readership. Is there a connection? Jazz happens all over this country and all over the globe. Annual lists of jazz camps and festivals areuseful, but don't make up for sparse regional reporting. Thus a paradigm shift has already begun.
Some national radio hosts cast a wider net. Jim Wilkes of "Jazz After Hours" and Mark Ruffin's "Real Jazz" at Sirius XM come to mind. A few years back, Ruffin featured excerpts from jazz festivals in many different cities in segments hosted by Monty Alexander (the pianist has a festival in his own name in Easton, Maryland). Listeners were treated to the likes of genre crossing Chicago composer and trumpeter Orbert Davis and excerpts from the Chicago Jazz Festival. What a great use of radio!
University Jazz Programs
One should not take for granted the creation and development of the many robust jazz studies programs. They are built on the blood and sweat of generations of musicians, most of whom did not have the advantage of a college education of any kind.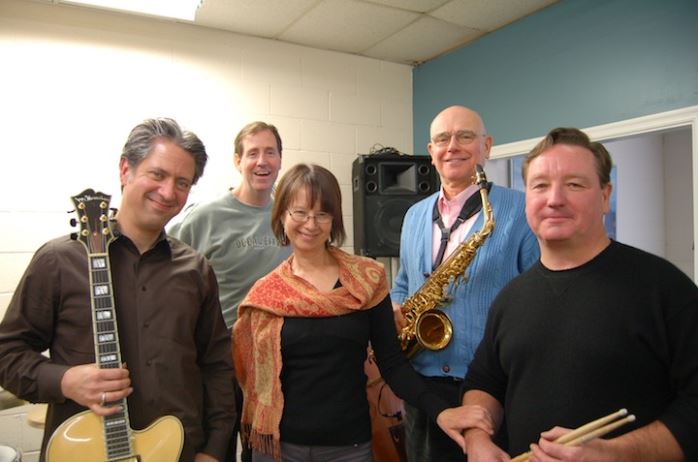 The Washington, DC metropolitan area is teeming with jazz and it's a hot bed of jazz education. Jazz students and fans can hear many university jazz professors playing in surrounding clubs and concert halls. They're releasing new albums and contributing mightily to the jazz canon.
We surveyed jazz programs at five DC-area universities and one in nearby College Park, Maryland. (A seventh did not respond to inquiries.)
American University
The major in jazz studies began eight years ago and Joshua Bayer is at the helm. Jazz is part of the music division in the department of performing arts. A bachelor's degree in music with a jazz emphasis is offered, and about 15 of 50 students involved in the program are jazz majors. Bayer says the related audio technology department is "one of the best in the country." A music business degree is offered in connection with the business school, and AU offers a graduate arts management degree.
George Mason University
Director of Jazz Studies Jim Carroll is enthusiastic about this promising new area in the School of Music, College of Visual and Performing Arts. There are 15 majors, 15 minors and four graduate students in jazz studies. A minor was offered in 2000, a B.M. in 2004 and an M.M. in 2010. One full-time and a dozen adjunct professors include heavy hitters such as Assistant Director Dr. Darden Purcell and world-class jazz pianist Wade Beach. The program offers instrumental and vocal jazz ensembles, including a traditional jazz ensemble and two big bands, including the Metropolitan Jazz Orchestra. GMU also hosts Jazz4Justice, a program integrating the law communities and the jazz program, raising funds for the poor and educating the public about jazz.
Wade Beach recalls a time when music students were discouraged from listening to or playing jazz. When he earned a master's degree in classical piano performance from the University of Maryland that was the case. After earning his M.A., Beach was determined to play jazz and became an apprentice of Sir Roland Hanna in New York. Thus today he is known for extraordinary improvisation—unfettered by stylistic limitation. He is also known as the busiest gigging musician in the region.
George Washington University
Peter Fraize is the area coordinator for jazz, begun in the 1980s in the department of music. Fraize describes it as "a smallish program in a liberal arts environment. Many of the students pursue jazz studies as an interest and a passion but not necessarily a career path." A bachelor of arts in music is offered with a minor in jazz studies. Besides the expected jazz combos, the program offers a Latin band and the 12-piece King James and the Serfs of Swing, directed by James Levy. Weekly faculty-student jams help prepare students to go into any jam session and play with confidence.
Howard University
In 1970 Howard was the first historically black institution of higher learning to offer a B.A. in jazz studies. In 1983, the master of music degree in jazz studies was approved. Situated in the department of music, the program is led by Charles Young and
serves 40 students, including instrumentalists and vocalists. Among the ensembles is vocal group Afro Blue. Coached by Connaitre Miller, the group has numerous awards and TV appearances to its credit. Many Howard grads are well known to the public, including Roberta Flack, Benny Golson and Marcus Johnson.
As Young explains, the objective of the jazz program is to preserve and perpetuate jazz through instruction, performance and
research. Undergraduate jazz studies majors can add a concentration in music technology. Young conveys a sense of mission: "The courses are tools to bring young people into a full realization of who they are and what they can contribute to the world through their music."
University of the District of Columbia
The director of jazz studies is Allyn Johnson, a noted pianist in the Washington, D.C. area. The program serves about 70
students with instrumental and vocal performance courses. About 15 students are jazz studies majors working toward a
bachelor of music -music performance degree. Nine jazz professors include accomplished bassist Steve Novosel. Practical courses address music business, music technology and computer applications to music. Ensembles include a big band, a jazz lab band and small jazz ensembles for instrumentalists and vocalists. UDC graduate, Davey Yarborough, received a master's at Howard and now heads the program at the Duke Ellington School for the Arts and the Washington Jazz Institute.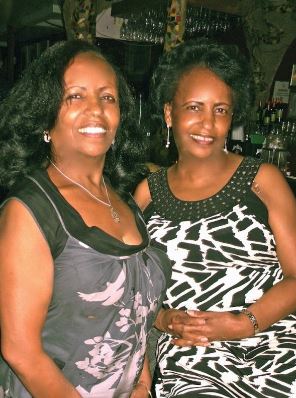 Interaction with the surrounding community is a hallmark of this jazz program begun in 1984. Besides offering a bachelor of music in jazz studies, the program is an important component of other music degree and professional programs training musicians. JAZZAlive at UDC unites the jazz studies program with citywide and regional events (culminating each year with the Calvin Jones Big Band Jazz Festival), research and outreach programs, and the internationally acclaimed Felix E. Grant
Archives. Events include concerts, panel discussions and forums, jazz films screenings and more.
University of Maryland, College Park
Chris Vadala, PhD is the director of jazz studies and professor of saxophone, leading eight other jazz professors at UMD. Bassist Tom Baldwin and drummer and vibes player Chuck Redd are just two of many hard-gigging jazz professors. There are some 30 jazz majors and up to 100 students enrolled in related classes each semester. About five instrumentalists graduate in jazz studies yearly. They can earn a bachelor's or master's degree or a related doctorate.
Quite a few UMD graduates teach in university jazz programs. Trombonist Jen Krupa is a member of many noteworthy ensembles including the world famous Diva Jazz Orchestra. Trumpeter Terell Stafford heads jazz studies at Temple University and Kenny Rittenhouse teaches at George Mason and performs with Smithsonian Jazz Masterworks Orchestra. The Kenny Rittenhouse Septet recently released New York Suite. Many other UMD graduates have music careers. Some have joined military bands such as the Airmen of Note, Army Blues, Army Jazz Ambassadors, Navy Commodores, The Next Wave Naval Academy band, West Point Army Jazz Knights, Marine band and military jazz bands overseas. Some teach and others are busy free-lancers.
High school musicians take note: many career military musicians retire after playing good music in the service, then enter a
second career phase in which they record numerous albums and reap top industry awards. Joining a service band can be a
smart move.
Adult Jazz Education
Adult jazz education programs are having a huge impact on the level of musicianship in the region. Two teaching artists offer
programs teaching jazz improvisation to instrumentalists and vocalists. They serve about 500 students each year.
Northern Virginia guitarist and jazz instructor Paul Pieper established two programs in 2007 with the goal of making jazz training enjoyable for adult students: The Jazz Workshop and The Vocal Workshop. "The focus is on straight ahead jazz," says Pieper. He tries to confer "a gigging musician's skill set" and useful repertoire. "I want to teach people things that have the most practical value," he says, "things that will actually make them sound better. They might need less theory and more ear training."
The Jazz Workshop
Students in The Jazz Workshop (52 and growing) attend three or four two-hour sessions per month. Also leading these sessions are bassists Gavin Fallow (also an accomplished violinist) and Bhagwan Khalsa, who also plays guitar and piano. Khalsa plays with the Eric Byrd Trio and co-directs B & B Music Lessons with Brad Clements (offering individual home instruction). Pieper says, "Students are mostly doing this to enjoy themselves and have music make their lives a bit richer." Most will remain hobbyists.
The Vocal Workshop
Inspired by the late Ronnie Wells, Pieper established The Vocal Workshop in 2009, installing as instructor pianist Chris Grasso, well-known accompanist and music director at the Mandarin Oriental Restaurant in DC. (Check out his concerts with stellar vocalist Sharon Clark.) In the workshop's eight-week sessions, singers perform in a trio and end with a public performance at Blues Alley. Sessions are held in Northern Virginia, the District and Maryland. They focus on the classic repertoire of The Great American Songbook.
Jazz Band Masterclass
Saxophonist and educator Jeff Antoniuk takes a different approach. When he created Jazz Band Masterclass 10 years ago, teaching in combo classes was a novel concept. His classes are grouped by ability level and improvisation and theory are emphasized. Twice monthly, 13 different bands meet in the District and nearby Annapolis, Maryland. Antoniuk is so busy with the program that he had to give up a long-term adjunct teaching position at Towson University. He also brought in acclaimed bassist Amy Shook and classical/jazz pianist, conductor and composer Fred Hughes to lead some of the bands.
inDepth Jazz Clinics & Concerts
Antoniuk and this writer also present half a dozen themed workshops yearly through inDepth Jazz Clinics & Concerts (and the Maryland Summer Jazz Camp). Guest teachers from New York, Boston and beyond challenge adult semi-pros to get better and get gigging. These programs have spawned a dozen new bands in the region. Standout students include singer, pianist, composer and arranger Sandy Asirvatham who with Ellen Cherry is spearheading the huge Baltimore arts project called Mobtown Moon based on Dark Side of the Moon and Quebecoise vocalist Lynn Veronneau. She has two high charting world jazz albums to her credit: Joie de Vivre and Jazz Samba Project. Many current and former students are gigging and recording in bands like the Bob Schwartz and Kash Wright Trio. Antoniuk himself appears on many albums and gigs often with the Jazz Update and MARS 4-tet.
Festivals
The large free concert on the Mall disappeared in 2012, but Executive Producer Charlie Fishman and Executive Director Sunny Sumter brought events to multiple locations such as new venue, The Hamilton, along with the Howard Theatre, Bohemian Caverns, the Atlas in Northeast, the Phillips Collection gallery, Smithsonian Institution sites and the Kennedy Center.
The Mid Atlantic Jazz Festival
Was launched in 2010 from the ashes of the former East Coast Jazz Festival. Held in February, the event is headed by saxophonist Paul Carr. It is growing steadily and features superb talent recruited from near and far.
Carr's release, Standard Domain, has been a Jazzweek chart topper featuring trumpeter Terell Stafford, pianist Joey Calderazzo, bassist Michael Bowie and drummer Lewis Nash.
Jazz Camps
This jazz camp draws adult students (16 to retirement age) and jazz fans from many states to its workshops, jams and concerts. The event receives high marks from students and faculty for solid curriculum and organization. An optional one-day theory class July 13 is followed by three days of jazz camp July 24 through 26. Public concerts: July 23 and 26.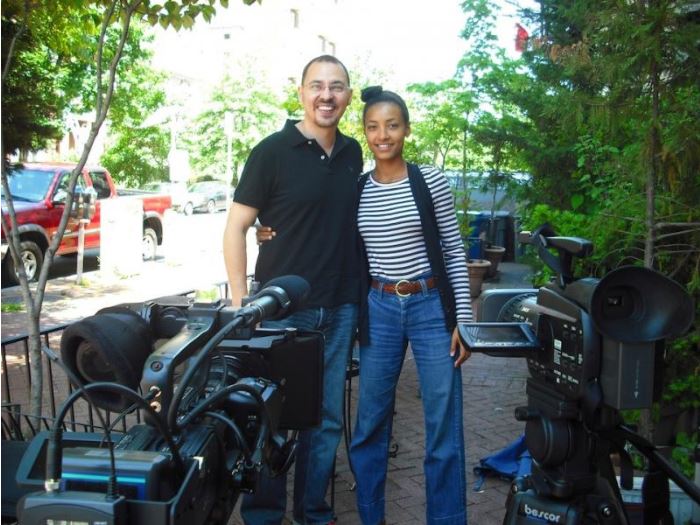 Washington, DC Jazz Venues
Concert Halls & Major Presenters
Kennedy Center Jazz
Strathmore
The Hamilton
The Howard Theatre
Washington Performing Arts Society (W.P.A.S.)
Adams Morgan
Bossa Bistro
Columbia Station
Dahlak
Eighteenth Street Lounge
Tryst
Dupont Circle
Black Fox Lounge
Georgetown
Bistro Lepic
Blues Alley
H Street
Atlas Performing Arts Center
HR- 57
Southwest
Jazz Night in Southwest—Westminster Presbyterian Church
U Street
Bohemian Caverns
Howard Theatre
The Loft—Multiple Locations
Twins Jazz
Hotels with Jazz
Gaylord National Hotel
Mandarin Oriental
Photo Credit
Lead photo/page 1: Kyoko Takenaka for CapitalBop.
Elizabeth Fixsen contributed to the article.