America survives in Jazz
By Michael Brissenden
Updated Thu Jun 30, 2011 3:51pm AEST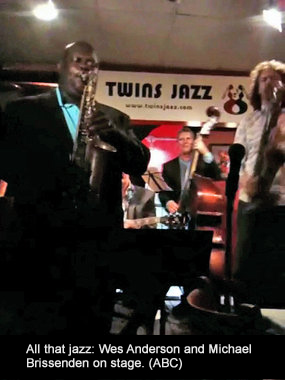 Yes I've heard them talk about the end of Pax Americana. I've heard the critics, the doubters, the cynics. Those who look at America and see only a failing economy, a bruised and at times staggering superpower struggling with a seemingly dysfunctional political system defined by bitter partisan fights over even the smallest of things. But amidst all this, American exceptionalism lives... thrives in fact. I found it as I was exploring my own midlife crisis in a small dark club in Washington's U Street.
But wait, it's not what you think.
I haven't traded in the seven-seater Dodge people mover for a Corvette. I haven't blown the kids school fees on a wild week in Vegas. My midlife introspection came in 'bebop' form, in triads, in a circle of fifths, in a wild and reckless reclamation of theory and scales, melody, rhythm and tone, long buried somewhere in a long dormant hemisphere of the brain.
Like a lot of people I grew up with music. I learnt it, I played it, I consumed it and even lived it for a while playing the Sydney music circuit in a post punk band that was clearly before its time. But I moved on. We all did. Then before I knew it I was actually older than the president of the United States - a realisation that became an existential moment almost as profound as the first time in the early 1980s that I heard Hunters and Collectors pounding out the rhythm to 'Talking to a Stranger' on an old gas cylinder.
So I took up jazz. I'm living in America after all: this is America's classical music, America's original contribution... and I've always wanted to play the double bass.
Here's a challenge, how hard could it be? Harder than I could've imagined actually but if anything even more satisfying. Every fortnight - work and travel commitments allowing - I meet up with a like-minded group of ageing careerists of varying musical ability and with the help of some skilled direction we plonk away at trying to master some of the classics. Sometimes we're not half bad, sometimes we're not half good, none of us are going to give up our day jobs but over the months we did manage to work up a respectable set of tunes. Which brings us in a round about sort of way to the dark little club on U Street.
Here we are, one of three bands made up of middle-aged jazz nuts, part of a jazz masterclass performance night put on for the benefit of our long-suffering families and friends. The place is packed with an audience gathered more for moral support than for any hope of musical enlightenment.
It is what it is - as the saying goes.
And it's going rather well. We're working our way through the set list. We've played the old standard 'Take the A Train' and I've even managed to get through a rudimentary solo. We've worked our way through a Bossa Nova or two and a respectable version of the jazz classic 'Alice in Wonderland'.
But this is U Street. Duke Ellington was born here, Miles Davis, Ella Fitzgerald, Dizzie Gillespie and countless others have all performed here. This is Washington DC. This is America and the place is crawling with great musicians. As we shuffle our music looking for the next chart our convener, Jeff, casually announces that one of the greats just happens to be in the room.
"Ladies and gentlemen will you welcome to the stage Wes 'Warm Daddy' Anderson."
And here it is - an only in America jazz moment. Suddenly we're off into 'Bag's Groove' and Warm Daddy is blowing the house down. The rest of us just can't quite believe it's happening. Five workmanlike wannabes playing with one of the greats. Wes Anderson - a guy who's played with every big name there is - 20 years with the Winton Marsalis band - and he's out on a Thursday night on a small stage in a small dark club with a bunch of enthusiastic tinkerers.
If this is the end then at least it'll go down wailing. Bring it on. American exceptionalism lives.
Michael Brissenden is the ABC's Washington correspondent.
Tags: human-interest, united-states
First posted Thu Jun 30, 2011 3:49pm AEST